NEC November 2023
Another great show with over 70 thousand enthusiasts attending over the three days!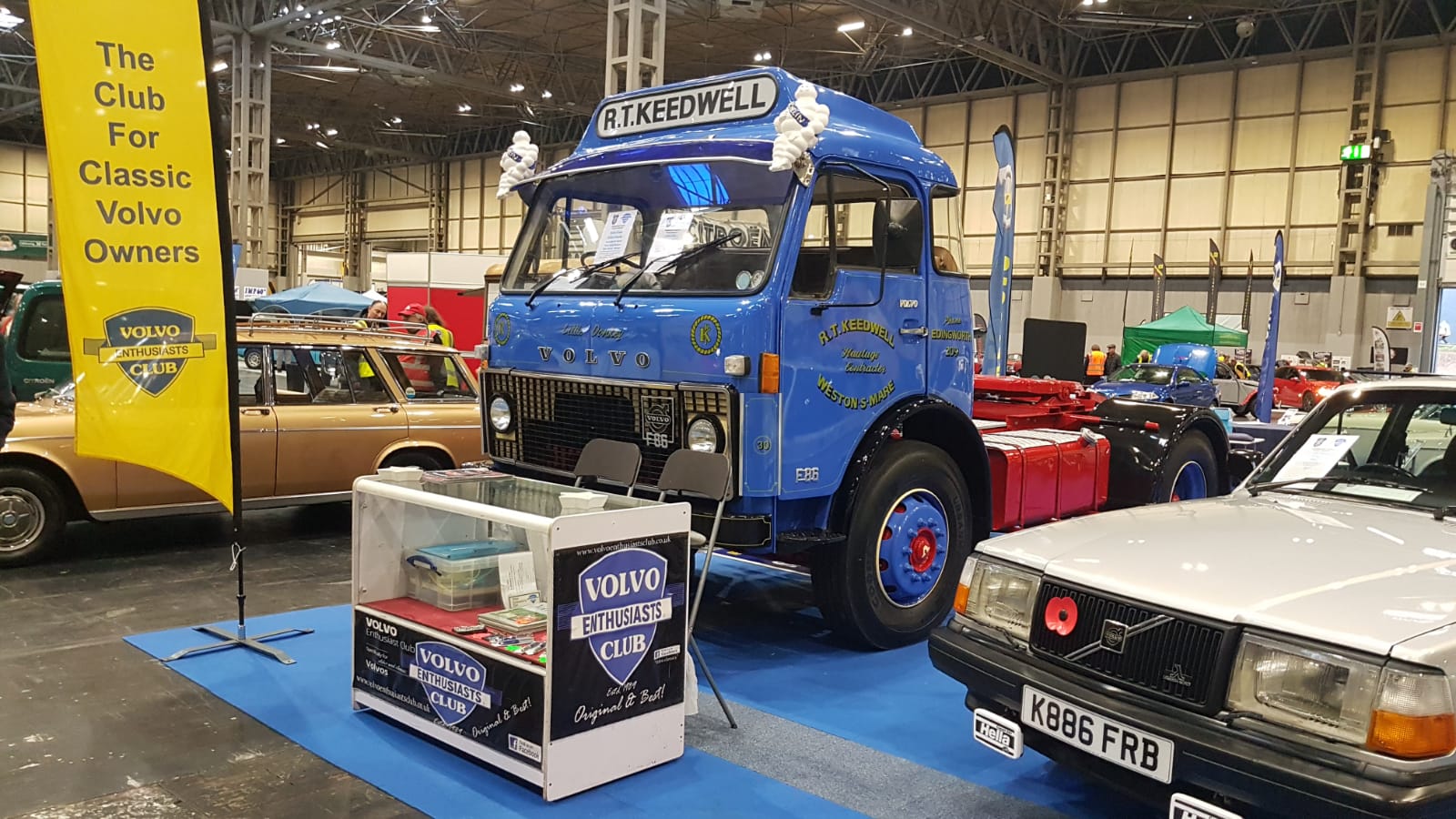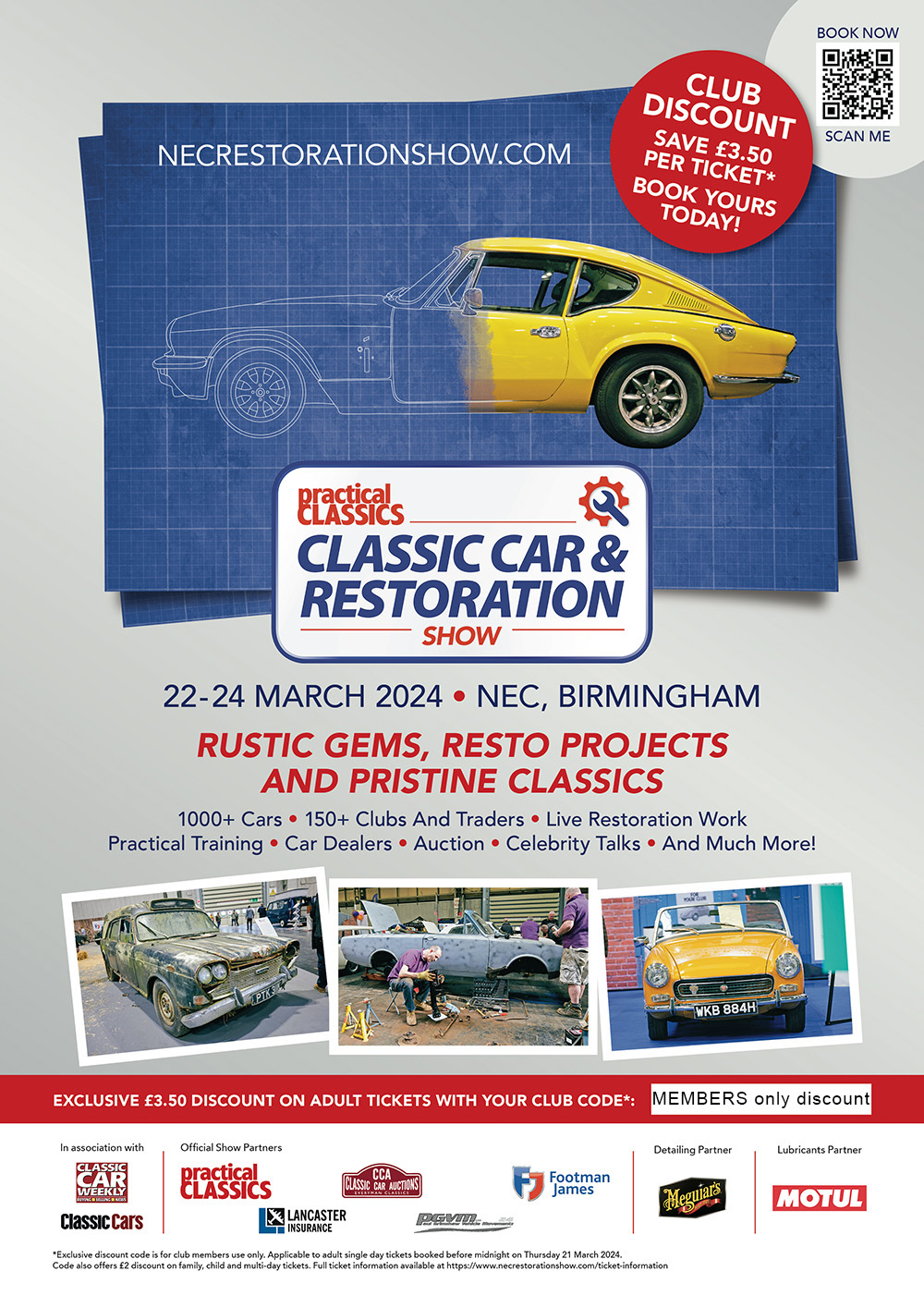 4th June 2023
Volvo Enthusiasts Club National Gathering 2023 A great turnout with over 80 cars and some new members first visits! Report and pictures on the News page now along with Marches Festival of Transport in Ludlow, British Motor Museum Gaydon 'Inspiring Volvo' meet and our visit to Great British Car Journey
AT THE NEC March 2023
A Great club display well received at the best Spring Practical Classics Motor Show recently, full report and pictures in News, be sure to go to the next event - see the 2023 guide!
Wanted: Volvo Special Tools and Volvo Workshop/Parts Manuals
Wanted Donations or for a small donations e.g. charity. ANY Volvo Special Tools Particularly for OLDER Volvo Models e.g. PV to 850, plus Bus & Truck and Ex Volvo Military, Construction, Agriculture, Volvo Penta & Public Service Vehicles so we can increase the range and number of our items in our tool library, which will be available to Members in the Club's 'Special Tool Loan Scheme', which is to be re-launched in the future, We are also looking for Volvo Parts/Workshop Manuals, particularly Bus, Truck & Ex Military – older or new models for Club Technical Library. ALL/ANY donations are most welcome. Please contact Kevin if you can help the Club with ANY items kevinprice.vec@btinternet.com
WELCOME TO THE OFFICIAL & ORIGINAL VOLVO ENTHUSIASTS CLUB
(ESTABLISHED 1989)
PLEASE BE AWARE CERTAIN INDIVIDUALS ARE CONTACTING OUR MEMBERS AND ADVERTISERS PURPORTING TO BE 'US' THE VOLVO ENTHUSIASTS CLUB, AS FOUNDED IN 1989 and in continuous operation since.
These claims and statements are not from us please do not be taken in on events magazines letters email or Facebook if our official logo is not shown and our web addresses volvoenthusiastsclub.co.uk or classicvolvos.com are not included.
COME AND SEE. THE REAL VEC!!!!!!!! LATEST CLUB EVENTS GUIDE! PDF CLICK HERE PLEASE >>>>>

Welcome to our Website, we will be adding more of our archived Events & Past Awards, Club Focus, Members Memories & journeys and much more over the coming months as well as technical data refinements. With access to over 30 years of Classic Volvo data and memories we hope you find it a useful resource to help you enjoy your Classic Volvo even more.
4th June 2023 – Volvo Enthusiasts Club National Gathering 2023 see more detail here National Gathering PDF
Here's the published guide of Events in 2023 here as a PDF
NEC March 2023 report coming soon, what a great show so early in the season.
16th April, 2023 – Our Club Members Day Out at The Great British Car Journey Museum in Derbyshire, such a monumental place to visit for any car enthusiast and British car fan.
-------------------------
NEC Practical Classics & Restoration Show with Discovery March 2022 report see News page here>

See above for the latest Events Guide to come along.
THE VEC Out and About in 2023
Here's the published guide of Events in 2023

here as a PDF
--------------------------------
Here's just some of the highlights this year so far don't miss out come and join us:

Go to our NEWS section to see report and pictures from these events - click here please
4th June 2023 – Volvo Enthusiasts Club National Gathering 2023 over 80 cars attended the day!
28th May 'Inspiring Volvo' Gaydon British Motor Museum

13th May Ludlow Spring Festival

16/04 British Car Journey Museum run and meet
NEC November 2022 show report see your latest magazine and in the Events/News.
-----------------------------
The VEC Northern Run, Sunday 4th September 2022
The Red and White Rose County Circuit See PDF here>
This year we revamped our annual Northern Run to take in some of the most beautiful scenery in Lancashire and Yorkshire- report in your magazine copy.
----------------------------------------------------------------------------------------------------
National Gathering - 2022' was held on Sunday 12th June, 2022
This was our Club's national gathering see the report and views on Events page it was a grand day out!
See here:>
----------------------------------------------------------------------------------------------------
The Volvo Enthusiasts Club National Gathering in 2021 was at Apley Farm Shop, Nr Bridgnorth, Shropshire was a great day out for members attendees friends and family.
This was our Club's National Gathering, which due to Covid restrictions moved to September rather than our usual June date, so that we were able to provide a safe environment for all our Members.
Our National Event this year was held at the great venue of Apley Farm Shop - see more in News:- (click)
FOR MORE INFORMATION ON ANY CLUB EVENT CONTACT vec.volvo@gmail.com
CLUB CONTACTS
Our Principal Club Contacts
Founder/Hon President
Membership & Vehicles Data & Records
Club Area Representatives
South West Contacts
Northern Area Contacts
North-East & Yorkshire Area Rep
Could you fill this position please contact?
North & East Midlands Area Reps
Alan Orgill & Pat Skillicorn- Orgill:
West Midlands, The Welsh Marches & Mid Wales
Bristol & South West Reps
Southern Area Contacts
Could you fill this position:
Scotland Area Contacts
Like to become a regional or technical coordinator, show and event stand volunteer then please call Kevin on 0754 259 5994 or kevinprice.vec@btinternet.com