Footman James Bristol Restoration Show 2015
Back to adverts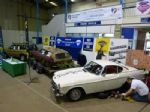 Our Club display at this year's Bristol Restoration Show held at the Bath & West Showground on the 5th-6th November, 2015 was a little different and with the support of the new Organisers – Morton's, we had one of the largest stands in the show.
The Club display at the request of the organisers following a conversation between them and Kevin, our Club Founder last June, featured 2 unique vehicles, a 1966 Volvo 1800S Estate owned by Kevin, which is believed to be a prototype built by 'Abbots of Farnham' the coachbuilder who converted Ford Zephyr's and Consul's into estates, which requires total restoration and is currently for sale, and mounted for display on a trailer owned by Club Member Sean Skeet.
Towing the trailer on the Club Display, was the second unique vehicle a 2001 Mitsubishi Pinnin built for 'Harrods of Knightsbridge' the famous London Department Store for their Christmas 2001 Competition and Window display. It features unique 'Harrods' Gold leaf paintwork, additional exterior 'Harrods' badges and the interior retrimmed in 'Harrods' green leather with gold 'Harrods' logo embroidered on the seat backs and gold stitching. This vehicle is owned by one of our youngest members, Courtney Skeet who is only 16 and has over the past year been restoring the car with help from her granddad, member Jim Skeet and others as her first car when she is able to drive next year. There was a lot of interest in the car and Courtney was kept busy talking about her restoration and plans for the future.
The 1800S and the Pinnin therefore formed two of the portions of our themed stand, the restored vehicle, the 'Barn Find' and the final car to make up the display was a lovely 1800S owned by Terry and Lisa Court whose car was the example of 'work in progress at the show'. Terry and Lisa had produced a great backdrop to their section of the display to show off their Saint Car 1800S with 'stickman' on the bonnet, as an 'Elstree Studios Garage' film set from TV's The Saint, complete with camera's, lighting, clapperboard and of course 'Sir Roger'. Terry over the weekend worked on the car doing a rear brake overhaul, which caused lots of interest and discussion.
Kevin's 1800S Estate caused lots of interest and was awarded 'R/U Most Interesting Vehicle' of the show.
Many thanks again to Sean, Courtney and Jim Skeet, for help with Transport and behind the scenes work before and after the show plus their and Member Chris Tye, Terry, Lisa and Kevin for bringing their cars, building and manning the stand and all those who came along to support the club at the event.
See you all again at the same venue for the 'Rock & Roll Classic Car Show & Great Western Autojumble – 13th – 14th February, 2016.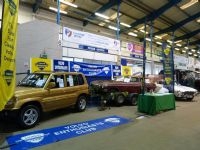 Club Display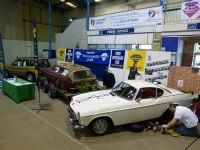 2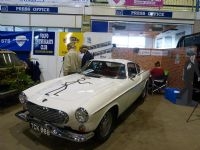 3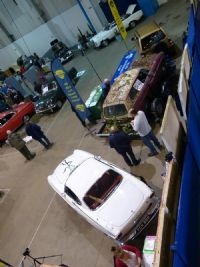 4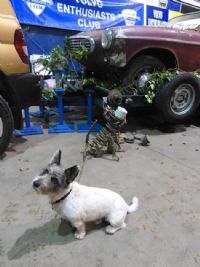 Bengie - Club Display Team Security Dog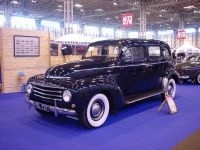 Ex Swedish Royal Family Volvo PV 831 Limousine circ 1953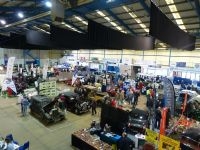 show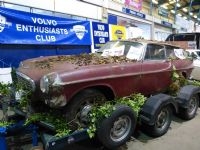 Volvo 1800 Estate
1800S Estate RU Most Interesting Vehicle at Show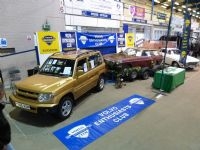 Towed in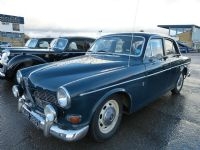 122S in car park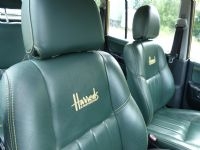 Harrod's Pinin by Courtney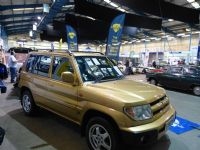 Harrod's Pinin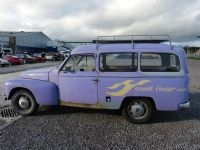 Duett in car park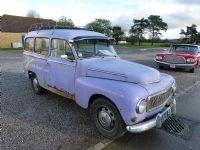 Duett